The SnoMaster Difference
Designed for heavy use in Africa, our line of fridges and freezers are unique in the market in many ways. We develop and test our coolers to ensure our customers receive great performance at a great value. When it comes to quality we make no compromises. With our wireless/solar powered remote and free travel bag, no other cooler on the market has so many useful features at such a great value!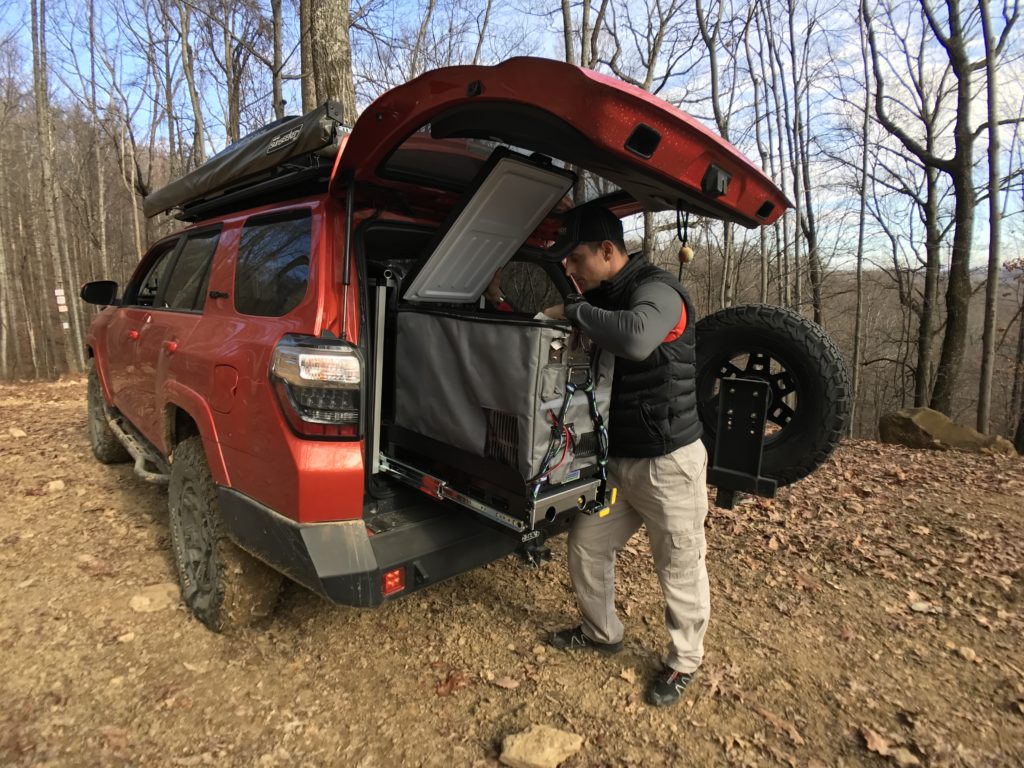 Our fridges are built for longevity and life long protection against corrosion. All locks, hinges and handles are made of stainless steel. The closures of the hinged lid can be secured if necessary with a padlock (not included). All fittings also use stainless steel screws and can be easily replaced in the unlikely event of damage. Even the flip cover hinges are adjustable for maintenance and care. The stainless steel honeycomb outer shell gives the SnoMaster coolers not only a high-quality appearance, but also makes them easy to clean and gives it greater stability. The surface is much more scratch resistant than plastic or a smooth aluminum or steel surfaces. Unlike plastic, which gets brittle with age and use. Stainless steel hardware is used for a lifetime of durability and reliability.
An invaluable advantage of SnoMaster coolers with two storage compartments, are the separated hinged lid for each compartment. Each opening of the lid necessarily means that the temperature in the freezer rises slightly and then has to be cooled again. This forward thinking design saves energy and keeps contents at a more consistent temperature. All SnoMaster include basket inserts made ​​of rubber coated steel for durability. Coolers with a refrigeration compartment are fitted on the left side with two stacked baskets and on the right side with a basket above the compressor. For coolers with two storage compartments can be found in the left, smaller compartment two stacked baskets. In the right stepped fridge is a big basket with a removable insert module.
Included with each cooler is a protective Travel Bag. This protects primarily the surface of the cooler from dirt or damage, but also provides additional insulation. Anyone traveling in hot weather or dusty environments, will appreciate that. Especially when the cooler is not installed in the air-conditioned interior of the vehicle. The protective case is closed with a sturdy zipper and has a storage pocket for power cables or remote control, and general storage.
SnoMaster coolers are supplied with a wireless remote control that is solar or USB charged. The wireless remote keeps the coolers fully monitored and controlled. The Wireless remote control displays the desired and the actual temperature, battery voltage and the cooling setting can be turned on or off via the unit. To use the remote control even in the dark, if necessary, the backlight of the display can be turned on. or to find your keys we added an Integrated  LED flashlight.
In order to prevent deep discharge of the battery supply all coolers are equipped with a battery monitor. This can be set via the control panel or the remote control in three stages between 10.0, 10.7 or 11.8 volts. When falling below the voltage, the cooler is turned off. Thus, damage to the battery can be avoided by deep discharge.
To guarantee the best cooling performance. SnoMaster developed its own compressor for portable refrigerators and freezers, which still functions reliably even in the harsh environment of an offroad vehicle and at extreme temperatures of desert heat!  The compressor is designed to resist dust and dirt, violent vibrations and shocks of todays overlander. SnoMaster guarantee's the compressor for a period of 5 years.
Quality, reliability, service and competitive pricing coupled with a dedicated team, form the SnoMaster difference!